HVAC Green Building Design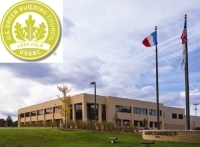 As the environmental impact of buildings becomes more apparent, a new field called Green Building is gaining momentum. Green or sustainable building is the practice of creating healthier and more resource-efficient models of construction, renovation, operation, maintenance and demolition. Research and experience increasingly demonstrate that when buildings are designed and operated with their lifecycle impacts in mind, they can provide great environmental, economic and social benefits.
Bumler Mechanical has been involved in Green Building Design at many levels. We have been the HVAC designer of record for multiple Green projects. On a typical building, the heating, ventilating and air conditioning (HVAC) can account for up to 70% of the building's energy consumption. For this reason, designing an energy efficient system that exceeds the latest energy codes and ASHRAE Standard 90.1 can dramatically reduce the energy consumed to temper the building.
A few of the most recent projects Bumler has been involved with that are obtaining LEED (Leadership in Energy & Environmental Design) certification by the USGBC (United States Green Building Council) are the following:
United Way of Southeastern Michigan - Detroit, MI (certified silver)
Ray Connect Industrial Building - Rochester Hills, MI (certified gold) LEED Gold Press Release click here
Chrysler, LLC Material Handling Building - Trenton, MI (certified)
Our staff of LEED AP personnel is very knowledgeable in Green Building Design and works very closely with our professional mechanical design engineers in the early phases of a project. With Bumler's team involved upfront during the design of the building, we can minimize the installation cost and provide cost saving solutions to a more sustainable HVAC design.